DETAILED INSTRUCTIONS FOR COMPLETING GRASSROOTS REFEREE COURSE
OMS is the system Arizona uses to schedule referee courses and to register referees with US Soccer.
2. Register for Field Training
Once you've created your OMS account, register for one of the Field Courses that are scheduled. Attending a Field Course is the final step of the process, but you need to register for one before your next steps. You will pay your total $85 fee through OMS when you register for a Field Course.
3. Create account and register for the Online Training in US Soccer Learning Center
US Soccer's Learning Center is where you will complete the bulk of the Online Training.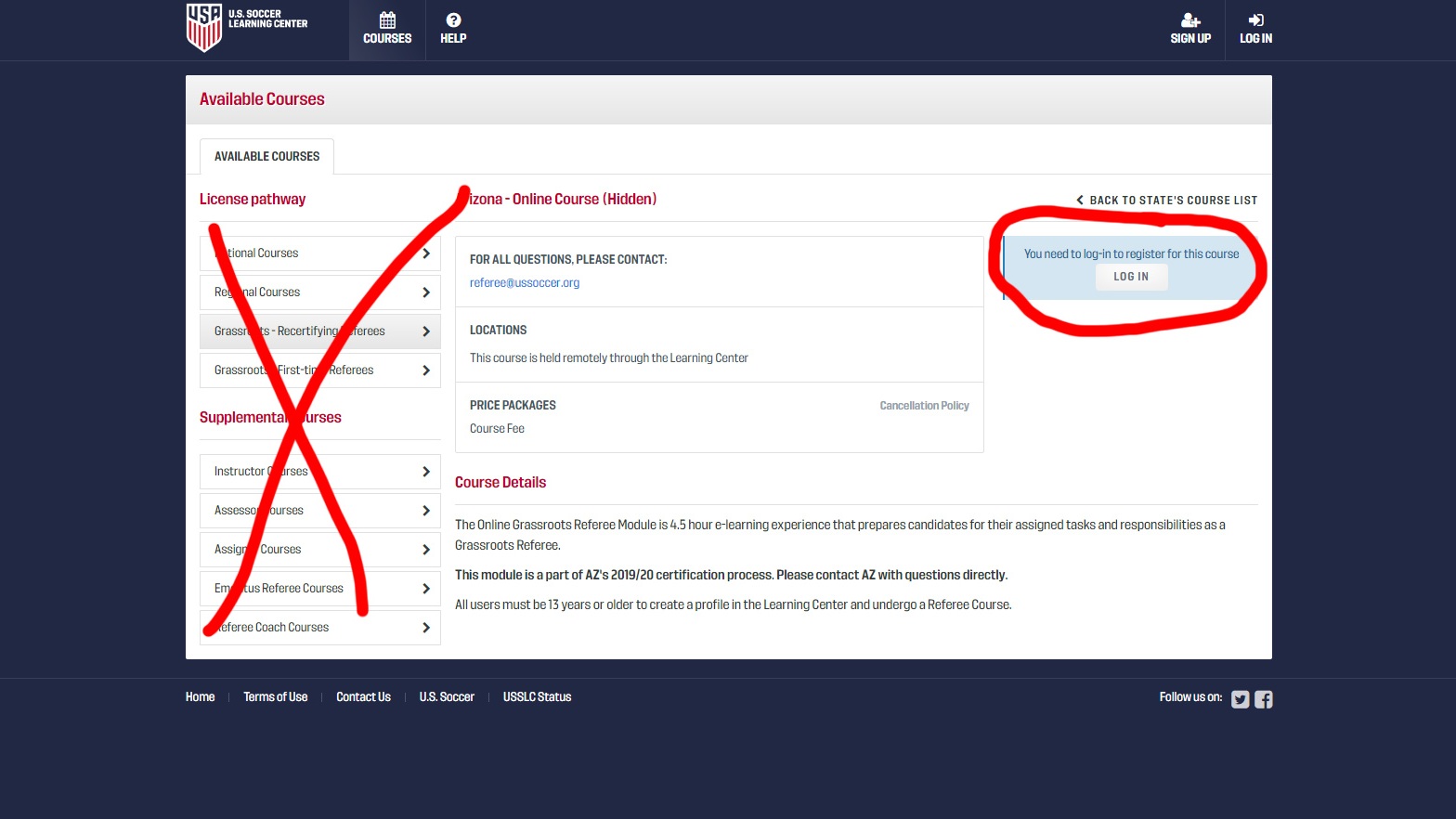 Do not navigate away from this landing page using the menu.
Complete the registration process
Once you complete the registration process, this screen is displayed. After clicking ASSIGNMENTS the first time through, you must watch the short intro video to completion to access the course.
Click CONTINUE GRASSROOTS REFEREE LICENSING COURSE to re-enter the course after you have left and returned.
Complete the entire Grassroots Referee Course in the US Soccer Learning Center
4. Complete Online Training
From the US Soccer Learning Center, you are able to print your certificate of completion of the Grassroots Referee Course. You will also receive an email from US Soccer congratulating you on COMPLETION of the course. If you are unable to print the certificate from the Learning Center, print the email you received from US Soccer. Bring this printed certificate or email to your Field Course.
5. Print Certificate of Completion
There are three additional online training modules that you must complete, which are accessed through OMS. These are the Introduction (if you have not already completed it), Safe Playing Environment training, SafeSport training, and the Final Exam.
NOTE: Students under age 17 do NOT have to complete SafeSport training.
6. Complete Additional Online Training Modules in OMS
After completing all Online Training, pass the Final Exam, which you will access and complete through OMS. Once you have completed this step, all of your Online Training requirements have been completed.
7. Pass Grassroots Referee Final Exam in OMS
The final step is to attend the Field Course that you registered for in OMS. The Instructor for the course will email you in the days prior to the course about any details you need to know, but here are some important items:
Dress in athletic clothing and shoes. Cleats are not recommended for the course.

Bring plenty of water. It is suggested to bring at least 2 Liters. It is safer to have more water than you need than not enough!

Wear sunscreen and bring extra sunscreen. Reapply it during the day.

Bring light snacks that you can eat quickly during short breaks. There is no lunch break or extended break time during the course.

Bring a whistle

Bring yellow and red cards. You may make cards if you do not yet own a set of referee cards.

If you have referee flags, bring them. If you do not, that is ok.

Arrive at least 10 minutes prior to the start time of the Field Session for check-in.

If you have questions, email your Instructor, or use the Contact Us button at the bottom of this page.